---
Music in Conversation feat. <b>Yuna</b>, Run River North & Baiyu
Posted: 06 May 2014 11:00 PM PDT
Friday, May 9 at Stanford University's Dinkelspiel Auditorium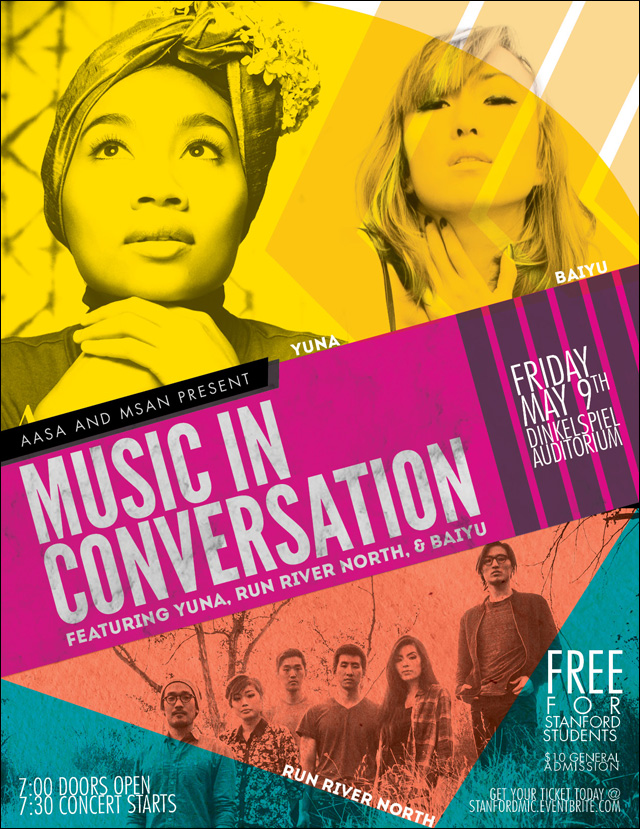 If you're in the Stanford area, lucky you. On Friday, May 9, Stanford University's Asian American Students Association and the Muslim Students Awareness Network are kicking off API Heritage Month by holding a concert, Music in Conversation. The night features Yuna, Run River North, and Baiyu:
AASA & MSAN Present Music in Conversation featuring Yuna, Run River North, & Baiyu

In celebration of Asian Pacific American Heritage Month, the Asian American Students' Association (AASA) & Muslim Students Awareness Network (MSAN) are bringing Yuna, Run River North, and Baiyu to Stanford University for a panel and concert.

Event Schedule:

Doors Open: 7:00 - 7:30 PM
Concert: 7:30 - 10:00 PM

FREE tickets with Stanford ID available at: www.stanfordmic.eventbrite.com
General Admission tickets available at: www.generalmic.eventbrite.com!

If you have questions, please contact Kevin Sunga (ksunga@stanford.edu) or Hana Al-Henaid (alhenaid@stanford.edu)

Follow the
Facebook event page
for more updates, or
purchase your tickets here
.
Posted: 16 Apr 2014 06:16 AM PDT
My current artist to help me cope with life is Yuna. She's not new and I've heard her many times before, but at this point of my life, her music resonates and heals me most. I never ever really listened to any Malay songs, Yuna's has been my love. These two right now have be on repeat.
'Decorate' in English.
'Lelaki' in Malay.
Lelaki translates to "man". The first verse goes "who do you think you are, this love you just dump?".
Anyway, to update you guys. It's been very rough these past few weeks, as seen in previous posts, but I think I've reached a point of numbness. I really don't feel anything anymore, or don't want to feel anything anymore. Some of you might think it's not good to not feel, but I've been feeling so much I just want it all to stop.
I am thankful however because I am so, so blessed to be surrounded by people who are so loving and helpful, even from people across few seas and continents.
I'll be okay.
AngelKein
You are subscribed to email updates from Yuna - Google Blog Search
To stop receiving these emails, you may unsubscribe now.
Email delivery powered by Google
Google Inc., 20 West Kinzie, Chicago IL USA 60610