---
Ghana Business News » Asante-<b>Akim</b> steps up road safety campaign
Posted: 01 Jan 2014 05:01 AM PST
You Are Here: Home » General News » Asante-Akim steps up road safety campaign
The Asante-Akim South District Security Committee (DISEC) has intensified road safety campaign in the area in a bid to reduce the high incidence of road crashes and the resultant fatalities.
This is being done in close collaboration with the Ghana Private Road Transport Union (GPRTU) and other driver associations.
It involves the holding of education durbars and forums at the lorry terminals and in the various communities.
Deputy Superintendent of Police (DSP) Samuel Sandow Latebu, the District Commander, who is leading the campaign, said they were targeting not only drivers and other motorists, but pedestrians and travellers.
They would reach out to all stakeholders and help everybody to take responsibility and stop the carnage.
Addressing one of such forums at Juaso, he said the recklessness and impunity could no longer be accepted.
He warned that those who flouted the laws would be arrested and brought to justice to restore sanity.
The District Commander urged the leadership of the various driver associations to aid their members to appreciate the need to value life and to be more careful on the road.
Mr Atta Mensah, the Deputy District Coordinating Director, said the DISEC would go to every length to reverse the disturbing trend of road crashes in the area.
Mr Emmanuel Yeboah, a driver, invited his colleagues to heed to safety education.
Source: GNA
Comments
2014 New Year's Resolutions - The Public Professor
Posted: 01 Jan 2014 05:30 AM PST
Posted on January 1st, 2014 by Akim Reinhardt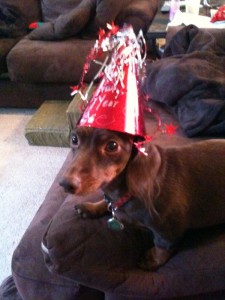 I've never made any New Year's resolutions before.  Boring me, I long ago decided to live everyday as best I can, engage in thoughtful self-reflection from time to time, and incorporate positive changes as they occur instead of waiting until the New Year.
But what if I took that holier than thou stick out of my ass and gave it a try?
Here we go then . . . My 10 for 2014:
Watch More TV.  I haven't had cable for more than a decade, and as the internet becomes ever more seductive, I find myself watching very little live television.  This is tragic.  As a professor, I should be relying on broadcast television to keep me in touch with my youthful charges.  True, my students don't watch much television either, instead choosing to bury their heads in the sand of smart phonery, but television can provide me with good fictional examples of what late teens and early twentysomethings think, believe, and do.  And if I absorb more of that, then perhaps the next time I try to "crack wise" with today's hip youngens, they'll recognize that while I'm woefully out of touch, I have given it the old college try.  Kids still respect that, right?
Eat More Macaroni and Cheese from a Box.  Making a simple version of macaroni and cheese from scratch is about as easy as making it from a box: boil and drain the pasta, melt in some butter and cheese, and finish with a dash of milk.  True, you have to hand-grate the cheese instead of just ripping open a powder packet, but if that really irks you, you can just buy pre-shredded cheese.  From scratch the dish is cheaper, tastes better, and is better for you, so why should I commit to eating more of it from a box?  Because as I watch more TV in 2014, I'm bound to internalize an important cultural trope: Meaningless, immature social interactions will make me depressed, and when I'm depressed, I should have a "comfort food" that I can use to feel better by gorging on.  Why boxed mac n cheese?  I dunno, I gotta choose something, and the unhealthier the better, because TV will also teach me that it's important to be like everyone else.  I need to fit in and succeed, and successful people are not free thinkers; they're just souped up versions of everyone else.  Time to go orange.
Do The New Diet.  I've been gaining a little weight these last few years as I drift into middle age.  I'm not overweight yet, but hopefully I will be shortly.  All that boxed mac n cheese and TV watching should help.  Being heavy and out of shape will allow me to fit in better.  So will feeling bad about it, and then haphazardly adopting the latest trend in weight loss.  2013 was the year of the Paleo Diet.  Sadly, I missed my chance to rip raw meat with my canine teeth and shit nuts.  But now that I'm more committed to gaining weight and fitting in with society, if not into my pants, then I'm also going to be committed to shedding pounds through the next incarnation of Atkins-South Beach-Paleo that comes along.  And all the better if it's officially sanctioned by a large corporation, à la Weight Watchers, NutriSystem, or even a fast food chain like Subway.  Oooh, if 2014 turns out to be the year of the Chipotle Diet, I am gonna be in Burrito Bowl Heaven!
Take More Pills.  I have a great doctor.  I really do.  And I'm gonna miss him.  Because as I see a rise in blood pressure, cholesterol, and other indicators of bad health, I'll have to leave him for a lesser doctor whose first instinct is always to proscribe pills.  No more thoughtful discussions about mine and my family's medical history, informed advice about age-appropriate diet and exercise, or sagely reticence about getting me hooked on unnecessary medicines with onerous side effects.  Fuck that.  I want to be a better American, so I need to find a doctor who will pump me full of pills.  And no goddamned generics either.  I'm going to demand the expensive brand name drugs marketed to me in TV ads.  We gotta pitch in and help out  Big Pharma, god bless 'em.
Scream More.  With my sense of reality twisting, my self-loathing soaring, and my health deteriorating, I think it's understandable that I'm going to become a little angry and depressed.  I'm gonna need to vent.  It's only natural.  So I resolve to yell a lot more.  Get red in the face, fume at strangers, ruin family gatherings, and complain endlessly about most everything.  A little focus is helpful, so as I consume more popular media, I should probably add FOXNews and some local AM radio Rush Limbaugh-knockoff to the list.  They'll give me good ideas about where I should direct my anger, like people who want to destroy Christmas or politicians who are the next HitlerStalinAnti-Christ.  But mostly I'll just rage, rage against the dying of the light, shouting ever louder into the darkness of my moldy soul.
Chew More Throat Lozenges.  That'll probably help.
Kill Myself.  Upper-middle class middle-aged white guys are at risk.  And while I actually make more of a middle-middle class salary than an upper-middle class salary, I have been living pretty high on the hog, what, with no kids to support or cable bills to pay.  So, ya know.  I oughtta get crackin' on that now.
Chicken Out.  But if I kill myself, who will rage against the HitlerStalinAnti-Christ?  I'm sorry, but there's just too much at stake with the midterm Congressional elections approaching.
Alienate All My Friends.  That'll teach 'em.
Give Up New Year's Resolutions.  Wow, that went poorly.  Maybe I'll just go back to living everyday as best I can, engaging in thoughtful self-reflection from time to time, and incorporating positive changes as they occur.  Eh, I like mac n cheese better from scratch anyway.
Happy New Year!
Filed under: Culture, Holiday History, Media Matters, Politics
You are subscribed to email updates from Akim - Google Blog Search
To stop receiving these emails, you may unsubscribe now.
Email delivery powered by Google
Google Inc., 20 West Kinzie, Chicago IL USA 60610