---
Music in Conversation feat. <b>Yuna</b>, Run River North & Baiyu
Posted: 06 May 2014 11:00 PM PDT
Friday, May 9 at Stanford University's Dinkelspiel Auditorium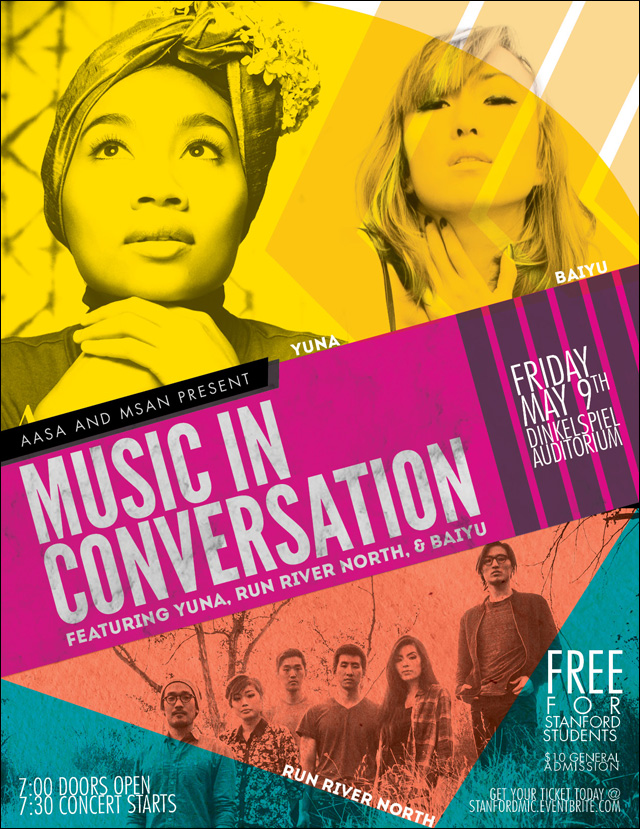 If you're in the Stanford area, lucky you. On Friday, May 9, Stanford University's Asian American Students Association and the Muslim Students Awareness Network are kicking off API Heritage Month by holding a concert, Music in Conversation. The night features Yuna, Run River North, and Baiyu:
AASA & MSAN Present Music in Conversation featuring Yuna, Run River North, & Baiyu

In celebration of Asian Pacific American Heritage Month, the Asian American Students' Association (AASA) & Muslim Students Awareness Network (MSAN) are bringing Yuna, Run River North, and Baiyu to Stanford University for a panel and concert.

Event Schedule:

Doors Open: 7:00 - 7:30 PM
Concert: 7:30 - 10:00 PM

FREE tickets with Stanford ID available at: www.stanfordmic.eventbrite.com
General Admission tickets available at: www.generalmic.eventbrite.com!

If you have questions, please contact Kevin Sunga (ksunga@stanford.edu) or Hana Al-Henaid (alhenaid@stanford.edu)

Follow the
Facebook event page
for more updates, or
purchase your tickets here
.
Kim <b>Yuna</b> bids tearful goodbye @ HanCinema :: The Korean Movie <b>...</b>
Posted: 10 May 2014 02:41 AM PDT
Kim Yuna, the "Queen of Figure Skating", has now wrapped up her more than 15-year career, as she bid farewell to her fans on May 6.
The 24-year-old figure skater announced her retirement from the sport earlier this year after the 2014 Sochi Winter Olympics.
All That Skate 2014, an ice show that took place from May 4 until 6 at the Olympic Gymnastics Stadium in Seoul, marked the star's final appearance on ice as an active figure skater.
For the opening act, the star performed exquisitely with other skaters, dancing to the song "Let It Go" from Walt Disney's popular animated film "Frozen". Following were a series of performances by paired skaters, and then Kim showed up again at the end of the first half to perform her short program "Send in the Clowns" from the Sochi Winter Olympics.
In the latter part of the show, Kim performed a new program to the song "Nessun Dorma", a piece from the opera "Turandot".
The skater wrapped up her farewell show with a final dance to the sounds of Francesco Sartori's "Time to Say Goodbye". For her curtain call, she simply said her farewells to the jam-packed audience at the rink.
Kim Yuna dances to "Send in the Clowns", the short program from her 2014 Sochi Winter Olympics performance, on May 6. (photo: Yonhap News)
Many news outlets from the U.S., too, rushed to headline the final ice show of Kim's career. Among them was NBC Sports, the sports division of U.S. broadcaster NBC. The news channel reported on May 7, that, "Yuna Kim bids tearful farewell at ice shows".
"2010 Olympic figure skating champion Yuna Kim performed the last of her farewell ice shows in Seoul", it said.
The same day, the Wall Street Journal also published a piece about the "queen of figure skating", titled "Yuna Kim's Final Spin".
"South Korea's beloved figure skater is now officially done with a sport that she has competed in for more than 15 years", the newspaper said.
The article shone a light on her glorious victories, saying that, "Yuna Kim won gold in the 2010 Vancouver Olympics and silver in the recent Sochi Olympics, on top of numerous world championship titles during her life as a professional figure skater".
"Yuna Kim bids tearful farewell at ice shows" is published by NBC Sports on May 7. (captured image from NBC Sports homepage)
During a press conference held after the ice show's three-day run, Kim said, "This is really the last".
"I have had real fun throughout the whole three days. I have been really happy getting ready for these shows, indeed. It all seems like a dream. At the same time, I feel sorry to have to say goodbye", she said.
"I have been so happy with all of you throughout my career and I will continue showing you the good side of me with other activities".
The Wall Street Journal's May 7 article "Yuna Kim's Final Spin". (captured image from WSJ homepage)
Kim maintained her usual composure until her long-time choreographer, David Wilson, sitting next to her, made an emotional remark. "Coaching Yuna was the best experience I've ever had in my 22-year career as a choreographer", he said.
At the heartfelt praise from Wilson, Kim began to shed tears. Wilson continued by saying that he felt so proud to see the outgoing skater finish her last show with perfection, saying that, "This is the most memorable moment in my life".
"Probably the best way to describe the way I feel is that it's a little bit bitter-sweet. I think, any transition in life is always exciting, but this is a little bit sad, too. I'm really proud of her".
Kim Yuna circles the rink to greet cheering fans as they hold placards that say, "Thank you, Yuna!" after her final ice show at the Olympics Gymnastics Stadium on May 6. (photos: Yonhap News)
In response, Kim, fighting back tears, said, "I've been working with Wilson for about eight years. It is safe to say that it is he that has influenced me the most. He means a lot to me".
"I want to take a good rest after this event. I will not rush in to something new. Instead, I will take my time to think about my future".
By Sohn JiAe
Korea.net Staff Writer
[email protected]
You are subscribed to email updates from Yuna - Google Blog Search
To stop receiving these emails, you may unsubscribe now.
Email delivery powered by Google
Google Inc., 20 West Kinzie, Chicago IL USA 60610